INVESTMENTS
The Victoriaoil factory is one of the few examples of successful privatisation in Serbia. When the company entered the business system of Victoria Group in 2005, an intensive investment cycle began alongside the reconstruction of existing plants, which is resulting in increased processing capacities and technological modernisation.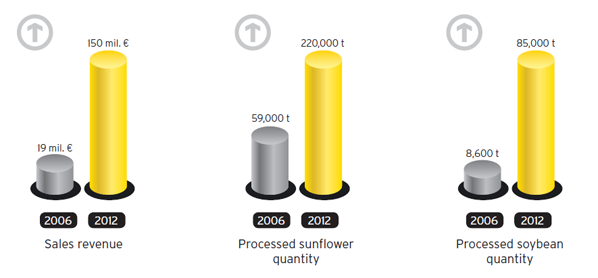 Reconstruction of the refinery, which was completed in 2007, was followed by new biodiesel production plants, with processing technology that enables the alternative production of refined oils and biodiesel. Over 20 million euros were invested in the plant, making it one of the largest investment projects in the country. Environmental protection and conservation were one of the key factors when choosing appropriate equipment and technology for this plant, which meet the EN 14 214 standard, the highest European biodiesel standard, whereby the conditions for marketing this fuel on the European Union market were created.
The ecological orientation of Victoriaoil in its production is also affirmed by the installation of biomass boilers, whereby energy independence and plant operation 365 days a year have been secured.
In 2009, the most modern plant in region for bottling and packaging Iskon edible oil was put into operation.
Among significant investments are:
2012 Boiler on biomass – bran (Vyncke)
2010/2011 Basement for storage of sun flower and soy grits (Inter-kop)
2010 Cold degumming (Westfalia)
2009/2010 Second reconstruction of Crushing (HF Group, Lurgi, DeSmet, Westfalia)
2009 Line for filling oil in PET (Siedel)
2008 Basement storage for bran
2007 Boiler on bio-mass (Kirka)
2006/2007 Refinery / bio-diesel (Lurgi)
2005/2006 First reconstruction Crushing (HPP Group)