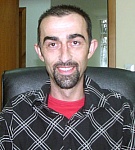 Shift Leader
Bottling Plant
I am pleased to work in a factory that has one of the most cutting edge edible oil bottling stations in Serbia and the Balkans. There is good communication within the shift, and with the superiors. We work on the most modern mass production machines where human error is reduced to the lowest level possible. I am satisfied with my wage and working conditions as well as with the regularity of my salary and all other earnings.
Victoriaoil also cares about its employees in other ways – we have received a supplementary health insurance card and we go for regular check-ups paid for by the company. If a worker falls ill or ends up in hospital due to illness, the company is prepared to financially assist treatment, which has happened to me personally. Victoriaoil also sends its employees to spas and gladly rewards high work performance. And the company rewards the happiest moment in every person's life, the birth of a child, thus the company is also supporting the birth-rate.
In brief, Victoriaoil cares about every single individual because together we make the firm what it is – one of the leaders in the region.